This April, a group of UAP members who traveled to Las Vegas for the 2016 AFT Higher Ed/PSRP Joint Conference where we spent three days talking with faculty and academic professionals from around the country about shared victories, challenges, and ways to make our union stronger. (Click here if you want to see the full photo album of our trip.)
On Friday, we took part in a national action in solidarity with Chicago Teachers Union members and other workers in Chicago who held strikes across the city to #ShutDownChi. It was great to be able to stand with so many other educators in the fight for fair funding for education.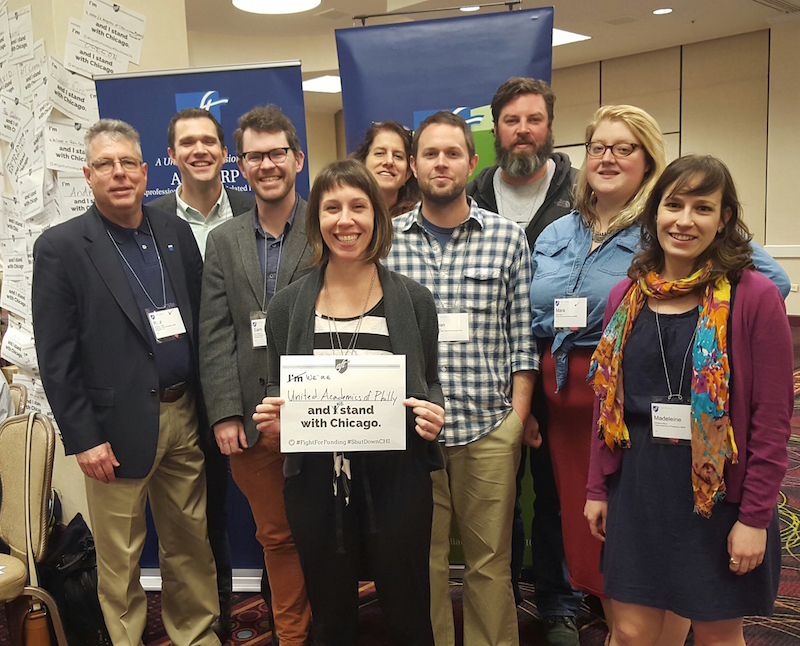 UAP members were at the forefront of activity throughout the conference. Sam Allingham kicked off a great panel on contingency in higher ed by sharing his experiences as an adjunct at Temple and La Salle. Jennie Shanker and Stan McDonald spoke about the effort at Temple to build stronger collaboration between full-time and part-time faculty, resulting in the adjuncts' overwhelming vote to join TAUP last fall. Paul Dannenfelser helped run a mini-workshop on how to have effective organizing conversations with our colleagues. Melissa DeGezelle moderated an exceptional panel on campus sexual assault –it's worth catching the recap here if you missed our livetweet. On Saturday afternoon, we were honored to have member Mara Hughes introduce AFT President Randi Weingarten, who gave a shout out to a packed conference hall about all the hard work UAP has been doing here in Philly. And Saturday evening, we hosted a lively reception for contingent faculty from across the country, organized by our own Anna Neighbor.
Participating in this conference was a great opportunity to meet people, hear about the organizing that's been happening in other places, and learn ways to get more members involved. I'm excited to bring some of that energy from Las Vegas back to Philly to make UAP better than ever!